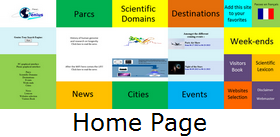 Astronautics
Study of the space machines
A freeware has been developped per Doctor Martin Schweiger, of the Sciences Department of the University College London. The Orbiter Space Flight Simulator allows to launch shuttles, Apollo, to pilot DeltaGlider III, staying extremelly close to the reality. To correctly install it, the OrbiterSound add-on module will need to be installed. Numerous other modules are available.
(Minimum configuration of the PC : 300 Mhz, 128 Mo, Windows 95/98/Me/2000/XP).