10-31-2014

SpaceShipTwo, Virgin Galactic, crashed in the Mojave Desert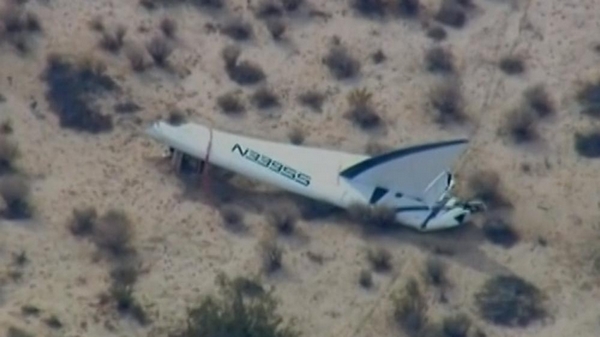 Piece of SpaceShipTwoin the Mojave desert (USA)



SpaceShipTwo crashed Friday, October the 31st in the Mojave Desert (USA).
The pilot was killed in the accident.
The co-pilot was seriously injured. He was taken to a hospital in the region.

The aircraft carrier WhiteKnightTwo used for the launch SpaceShipTwo from the sky, "landed safely" the company Virgin said.
The plane took off on Friday, October the 31st in the Mojave Desert.
The accident occurred during a test flight organized by the partner of Virgin Galactic, the company Scaled Composites, shortly after the release of the spaceship from its carrier.

Richard Branson tweeted shortly after "Thoughts with all @virgingalactic & Scaled, thanks for all your messages of support. I'm flying to Mojave immediately to be with the team."

This acident is one of the most serious crisis that the businessman and adventurer faces.
Indeed, SpaceShip reached the 100km of altitude already in 2004, and commercial flights booked by more than 800 people at an average unit cost of $ 200,000 (approximately EUR 160,000) were planned to start by Christmas this year, as was saying Richard Branson last month the Wall Street Journal.

This accident continues the black series that USA currently cross in space launches, since Antares rocket resulted in failure on Octobre the 29th (this private rocket Antares from the company Orbital had to send the Cygnus resupply capsule to the ISS but crashed a few seconds after its launch on its launch pad at Cape Canaveral because of the failure of its Russian engine NK-33 built 30 years ago and renovated since; therefore both accidents have no connection to each other).